Welcome to NYC's Premier House Call Vets
City Pets Vets®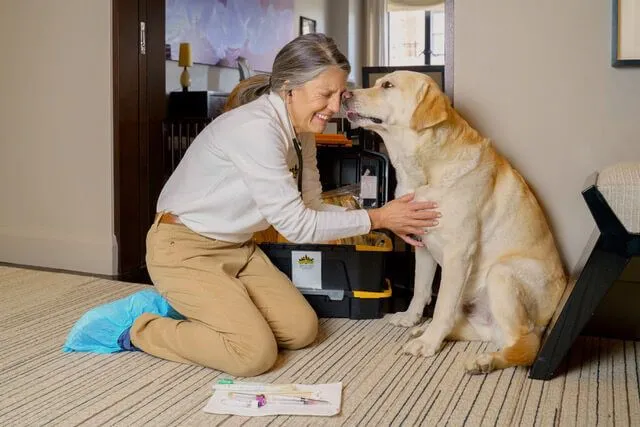 Your pets are an important part of your family -- and like other family members, they're more comfortable at home amidst familiar faces and surroundings. That's why City Pets Vets® is the first choice for so many Manhattan dog and cat owners. Under the leadership of Dr. Amy Attas, City Pets Vets® provides mobile concierge veterinary services by bringing high-quality medical evaluations, treatments and advice directly to you and your pets.


The Benefits of Mobile Veterinary Care
We know how careful you are to ensure your pet's comfort and emotional security, but a visit to the veterinary hospital is a stressful experience. Make the experience less stressful for your pets with a City Pets Vets® house call. A house call with City Pets Vets® avoids:
Being transported in a taxi (maybe even in a carrier) through the bustling streets of Manhattan.
Being surrounded by animals who might be sick and contagious in a crowded waiting room.
Wasting your valuable time traveling to the hospital waiting for the doctor and then bringing your pet home again.
At-home care eliminates all these issues. Our concierge veterinary services enable you to remain comfortably at home with your pet as we come to you, equipped with everything we need to provide necessary care. Relaxed, comfortable animals are more likely to display accurate vital signs reflecting their actual state of health, as opposed to variations that may accompany anxiety or fear in an unfamiliar hospital environment. This helps us make more precise diagnoses and administer better care.


City Pets Vets® Manhattan House Call Service
City Pets Vets® is proud to offer a wide range of primary care services in its mobile veterinary practice. We can provide such varied services and techniques as:
Adult pet wellness exams, including blood and urine testing
Puppy and kitten wellness care, including vaccinations
Microchipping for permanent identification and international travel
Diagnosis of a wide range of health problems
Fluid therapy, first aid and prescribed medication
Therapeutic laser therapy for drug-free treatment of pain, inflammation, and tissue repair
Cancer treatment
Surgical and emergency care co-management with some of Manhattan's leading veterinary specialists
At-home euthanasia so you and your pet can say goodbye in the comfort of your loving home
About City Pets Vets®
It takes a special team to provide this special care -- and our two veterinarians, Dr. Amy Attas and Dr. Danielle Dalton, head such a team. Dr. Amy created City Pets Vets® in 1992 with the vision of bringing the comfort and convenience of the traditional house call to today's Manhattan pets and pet owners. A top graduate of the University of Pennsylvania School of Veterinary Medicine and New York's Animal Medical Center, Dr. Amy and her team have raised City Pets Vets® up to the pinnacle of concierge veterinary care in Manhattan and quite possibly nationwide.
Join the City Pets Vets® Family
Discover our unique combination of quality and convenience for yourself -- and your beloved pet. Contact us at (212) 581-7387 to arrange for mobile veterinary services.